Auckland On Water Boat Show starts October 2
by Isla McKechnie Sep 27, 2019 2:39 PM PDT
October 3-6, 2019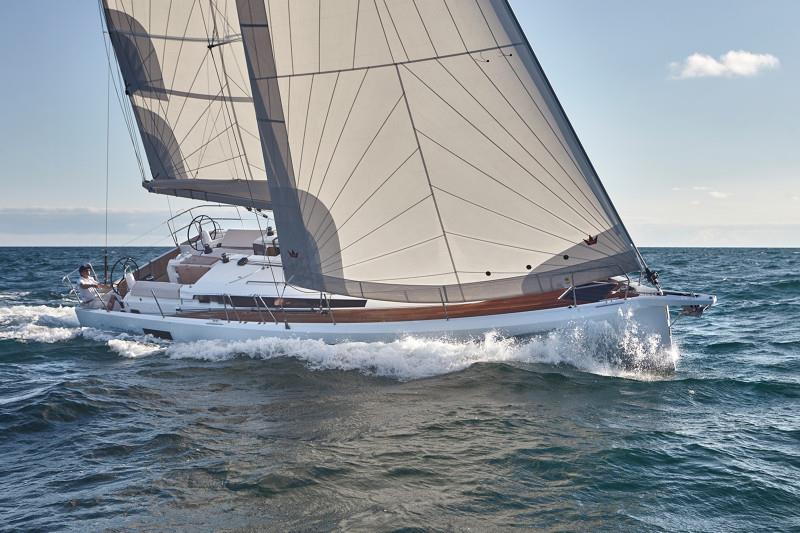 Orakei Sun Odyssey SO440 © Auckland On the Water Boat Show
In October, this year's Auckland On Water Boat Show, now in its 21st edition, is scheduled for October 3-6. This somewhat later date brings the fair closer to school holidays, as well as summer time which, according to the organizers, will further increase the number of visitors.
The location of the show has also changed slightly for 2019, moving further to the heart of the viaduct, which was the home of the show during its early years. "Onshore exhibitors will stretch from the Eastern Viaduct to Karanga Square and, as always, many ships on the water will be available, which makes this show unique in its market," said organizer Stacey Cook.
Among the many highlights on the water, there will be a pair of Elite powerboats; Virago by Scott Lane Boatbuilders and Antiquity by Lloyd Stevenson Boatbuilders. Lloyd Stevenson Boatbuilders have started work on an interesting new build, a 24m blue ketch cruiser, which they are keen to tell spectators about.
Staying with custom built, locally built motor yachts, Dickey Boats will have a Dickey SemiFly 45 at the show, superbly crafted in Napier from aluminum.
The major Australian motor yacht builders will be well represented this year. Maritimo plans to exhibit new and updated models, including the new X50 and popular X60 sedans and the updated M51 and M59 flybridge launches for 2019.
Riviera, represented by Flagship Marine, will showcase new models, including new boats in the SUV range, as well as examples of existing flybridge and sedan launches.
Still on the water, Orakei Marine intends to show a wide range of motor yachts and marina launches. Popular brands will include the launches of Jeanneau, Prestige and Leader, with sailboats from Sun Odyssey and Lagoon. Orakei hopes to have three models from the popular Merry Fisher line, as well as several Zodiac RIB models.
36 Degrees Yacht Brokers is back and presents launches and yachts, with the new Beneteau GT50 motor yacht as well as a GT40 and a Swift Trawler 35. For sailing enthusiasts, there is the new Beneteau Oceanis 46 to discover .
Busfield Marine Brokers is another exhibitor with launches and yachts on the water in October. New Zealand agent for Bavaria, he will present the Bavaria S36 coupe sports motor yacht and the all new Bavaria C50 yacht, the first in New Zealand.
Various boat rental and sharing companies will have a strong presence this year, including Dream Charters and Ownaship, which has expanded its fleet with another Maritimo M51 motor yacht, an Iliad 50 motor catamaran and sailing catamarans from Lucia and Astrea. .
As usual, Sealegs will present a wide selection of amphibious models, from 6.1m to 9m. The company will offer demonstrations and sea trials throughout the three-day event.
One notable exhibitor is Grady White, who will have a 330 Express powered by a pair of Yamaha XTO V8 outboards at the show. This multi-award winning sport fishing boat is a must-have for the angling fraternity.
As in previous years, New Zealand semi-trailer and semi-rigid manufacturers will be very present at the 2019 show. All major brands of semi-trailers, both in fiberglass and aluminum, will be represented by the manufacturers themselves or their dealers.
Seacraft Miller Moyes will have a range of 14 Haines Hunter boat models on the island of Te Wero. Smuggler Marine will be exhibiting a range of its high-quality Strata RIBs, RIB manufacturer JP RIBS will launch their very impressive 12m K-Series RIB and King Watercraft will showcase custom-made RIBs and runabouts for jets. and outboard.
Other interesting vessels include two amphibious options using the Tectrax amphibious propulsion system, a McLay Boats Raptor with a fully enclosed front wheel and a new Senator offering live demonstrations on the water.
With better port access, this year's event will see more boats available for sea trials, meaning interested buyers will be able to embark and travel to the Hauraki Gulf to see the vessels underway.
The Auckland On Water Boat Show isn't just about launches, yachts and trailers – it's all about everything marine.
Major engine manufacturers, designers, antifouling and paint suppliers and more will be back to help bystanders plan their next paint, repair or refuel, while the companies themselves network with other shipping companies.
If you're looking for its roll damping stabilizers, check out Vessel Management Services which offers DMS MagnusMaster rotor stabilizer systems, or take a look at the Humphree systems at the Volpower booth.
Innovative marina solutions? See MarineScapes dry berth options.
Thinking of an engine for your new or current boat? There are gasoline, diesel, outboard, electric and electric options from all major suppliers. For the first time in New Zealand, Volvo Penta's new D4 and D6 engines for inboard, sterndrive and IPS can be seen on the Volpower interactive display, along with the latest Volvo accessories and Humphree trimmers and stabilizers.
Electric propulsion? Discover Oceanvolt's electric Saildrive (with hydrogenerator) and the compact but powerful range of ePropulsion electric outboards at the Beacon Marine stand.
With last year's event showing a twelve percent increase in visitor numbers, organizers look forward to seeing another strong boat show this year. The tickets went on sale online June 1 and are being promoted alongside a grand prize for online shoppers, as part of a larger marketing campaign spanning TV, radio, digital, l printing, advertisements, billboards, national and international magazines and media, fishing and sailing. personalities and social networks.
The Auckland On Water Boat Show is the country's largest on-water boat show, showcasing more than 200 national and international shipping companies each year, including dozens of shipbuilders and boat brokers. The 2019 show promises to be better than ever.
Click here for tickets and information on Auckland On The Water Boat Show 2019